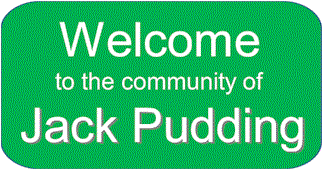 A community called Jack Pudding existed during the 1800s in Hamilton Township, Atlantic County in Southern New Jersey. It was located east of the Babcock Creek and surrounded the Babcock's Jack Pudding Branch. There is no way to know if the creek or the community was named first. This community was reached primarily via the Jack Pudding Trail that extended from McKeetown (now McKee City) near the present-day Atlantic City Race Course. There was no direct connection to Mays Landing at that time.
Cologne Avenue was cleared from Jack Pudding to the north in about 1856 by the Gloucester Farm and Town Association (see map below from the 1890s). Twenty-acre farm lots were sold, primarily to German immigrants. Thus the area became more closely associated with Egg Harbor and its German population. It remained somewhat isolated from the balance of Hamilton Township until Cologne Avenue was extended south to the Harding Highway in the 1920s.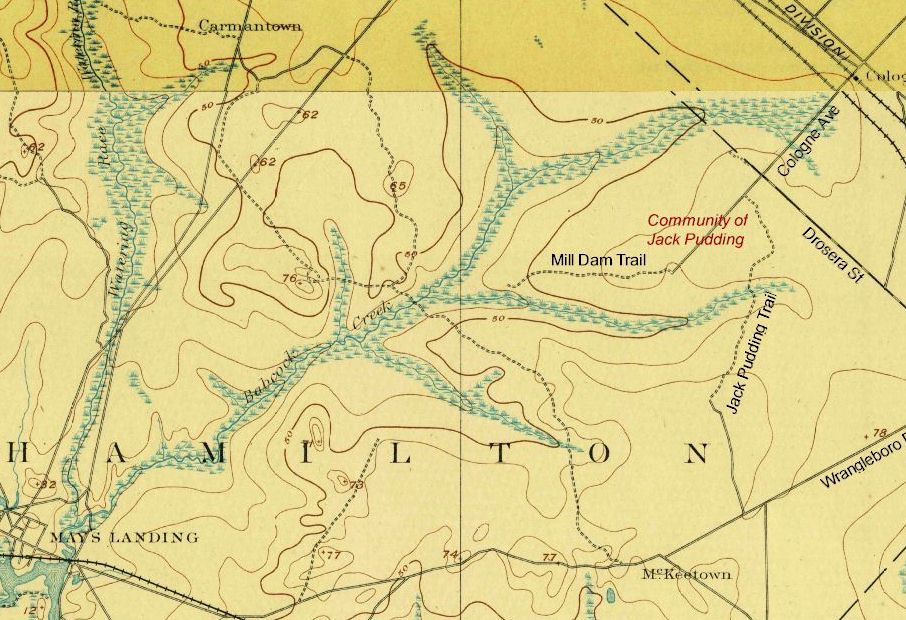 Jack Pudding was recognized as a community in the official Hamilton Township, Atlantic County, and State of New Jersey records until the 1870s. Births and deaths were routinely recorded as having occurred in Jack Pudding.
Today, some folks who live in Jack Pudding mistakenly say they are from Cologne. That is because of the construction of a second railroad in 1877 called the Philadelphia and Atlantic Railway (P&AR). It ran parallel to 1854ís Camden and Atlantic Rail Road (where New Jersey Transit's Atlantic City Line runs today). The P&AR was the first to have a depot at Cologne Avenue in Galloway Township that they called the Cologne Station. As a result, the Post Office began to serve the local area from that station, calling that office Cologne after the P&AR station and the street. The residents of Jack Pudding got their mail there, leading them to say they lived in Cologne (a community in Galloway Township) rather than Jack Pudding (in Hamilton Township). Thus, the name Jack Pudding was temporarily lost.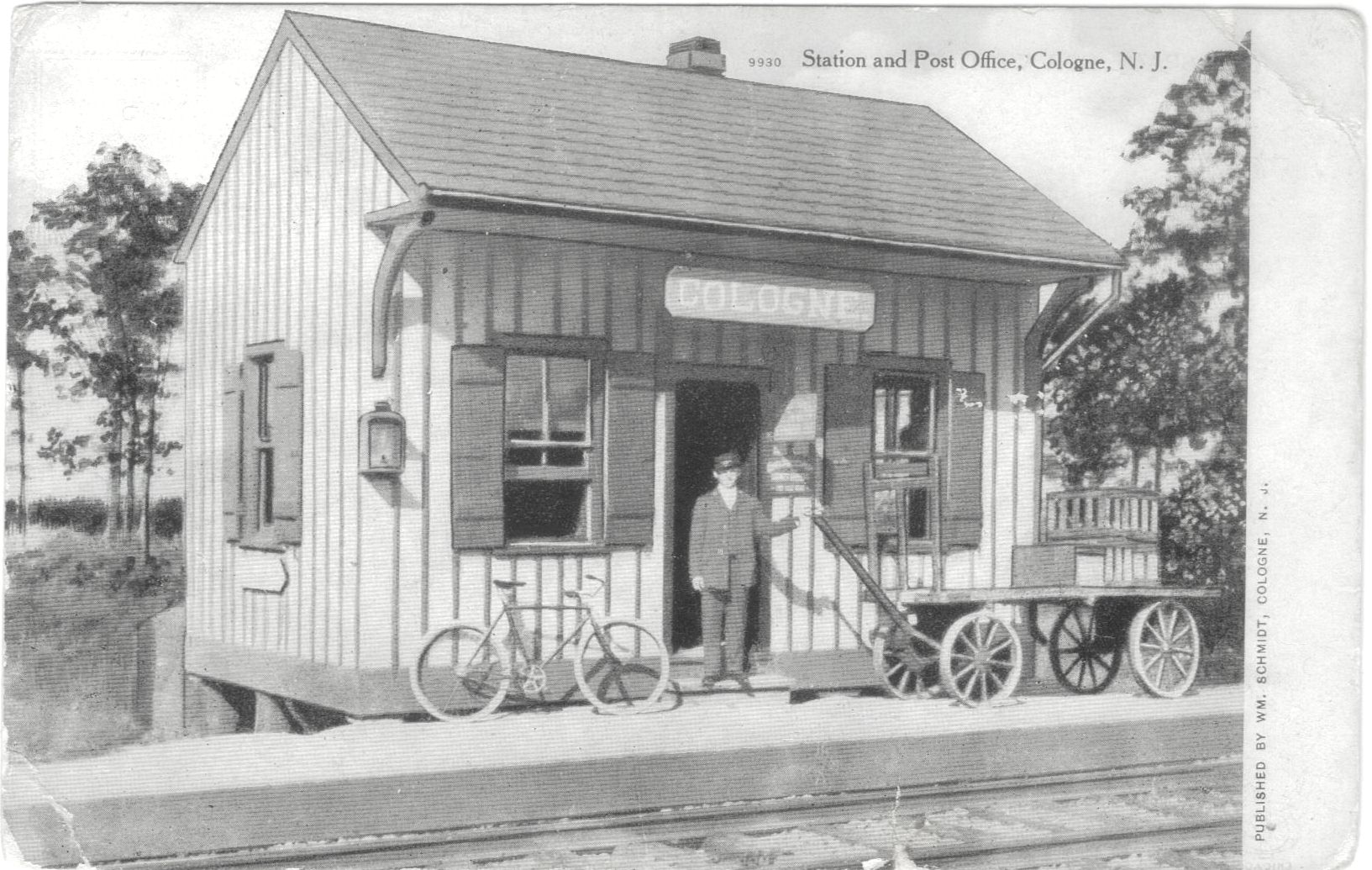 Postcard depicting Postmaster William Schmidt in front of the Cologne Station and Post Office
Now, as the result of new historical research, the community of Jack Pudding is beginning to live again. Many local residents are excited about having their own identity. Movement is afoot to properly rename local landmarks such as the Cologne Volunteer Fire Company that sits nearly astride the Jack Pudding Branch. And Puddingites want their community to be recognized as a named place, much like Carmantown, Emmelsville, Gravelly Run, Mays Landing, Mizpah, Reega, West Egg Harbor (now often called Laureldale), Weymouth, and other Hamilton Township communities.