History of the Grunow Family
Our great grandfather Charles Grunow, born on April 23, 1822, came from the small village of Mohrin, Prussia. When Charles was 27 years old he married Carolin Heinrich, age 20, daughter of a local farmer in the Mohrin area. Early in 1860, Charles, Carolin, their four children, and Carolin's father Christian Heinrich went to Hamburg to start their trip to America. The children were Louise (age 9), Amalia (7), August (5), and Ernest (2).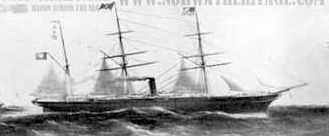 The family was extremely luck to sail on the Borussia, one of the first steam ships. Sailing ships took four to six weeks to cross while the Borussia crossed in 14 days. On April 15, 1860, they arrived in New York, then down to Farm lot #556 on Manheim Avenue, Atlantic County, New Jersey.
In 1861, Charles enlisted in the Army – his regiment the Seventh New Jersey Volunteers. On May 5, 1862, he was wounded in the Battle of Williamsburg near Fort Magruder, Virginia, from which he received two dollars a month pension. (See N.J. Civil War Record.)
Charles and Carolin had two more children in New Jersey after the war – Albert A. (my grandfather) born September 16, 1866, and Bertha born November 15, 1868.
My grandfather Albert A. Grunow married Bertha S. Liepe (born November 14, 1867), creating the link to the Liepe family.
by Willard Raymond Grunow (1926-)
Ed. note: The once-German town of Mohrin in Western Pomerania, Prussia, is now called Moryń and is a part of Zachodniopomorskie, Poland.