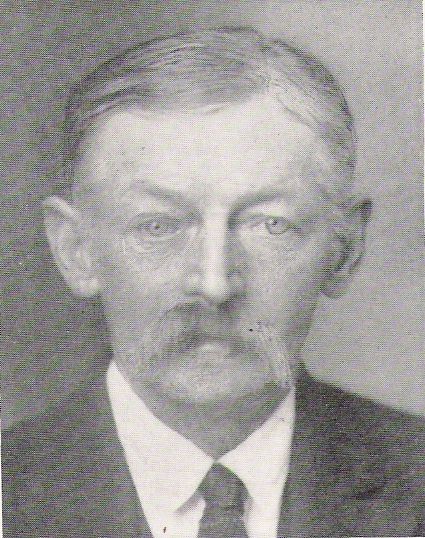 WILLIAM LIEPE
Born, New Orleans, La., Sept. 28, 1857, son of Henry and Antonia (Schmiedegen) Liepe. Educated, Cologne public schools. Married, Dec. 23, 1888, Anna, daughter of George and Josephine (Sopp) Mittelsdorfer, of Baltimore, Md. Children: Anna, Oct. 25, 1889; Antonette, Oct. 5, 1890; Adelaide, Nov. 3, 1891 (now Mrs. Arthur Boerner); William, May 1, 1893; Henry, May 14, 1894; Bertha, Nov. 3, 1896; George, Feb. 23, 1898; Herman, March 11, 1899; Kathryn, March 19, 1900 (now Mrs. George B. Eaton). Residence and business, Cologne Ave., Cologne.
William Liepe is of German descent. His father, Henry Liepe, was unfortunate enough to lose his parents at an early age so that his training fell to the lot of other members of the family. He came to America in 1855, landing at New York City and immediately obtaining a position there as a shoemaker, a trade he had learned in Germany. Later he moved to St. Louis, Mo., and then to New Orleans, La. While in the latter city, in 1856, he sent back to Germany for Antonia Schmiedegen, his promised wife, daughter of a Berlin jeweler. She followed her lover to America then and they were married in New Orleans, August 24, 1856. The couple moved to Chicago in 1859 and lived there four years, coming to Cologne in 1863, at that time a wilderness near Egg Harbor City. Their oldest son, the subject of this biography, was then six years of age. Mr. Liepe purchased twenty acres of land from the Gloucester Farm and Town Association and planted a vineyard. For a time he continued to make shoes at home until he became well established in agricultural pursuits. He gradually increased his holdings until the family homestead was an attractive proposition. Mr. Liepe repeatedly encouraged his grown sons to stay at home, giving them tracts of land to aid them in establishing themselves in farming. At his death he left a large tract of land to his children.
As the subject of this biography completed his education, he went to work upon his father's farm, where they raised grapes, berries and truck of various kinds. Before long, Mr. Liepe had a farm of his own and engaged in agriculture independently. For several years he has made a specialty of sweet potato plants and for some time has had the largest acreage of sweet potatoes to be found in Atlantic County. Locally, he is known as the "Sweet Potato King."
Mr. Liepe's tireless energies, his shrewd management and genuine enthusiasm for agricultural work have brought to him a merited success. He is instantly recognized as a leader in his vocation-one to whom others may look for guidance and inspiration. One big factor in Mr. Liepe's success is brought to light by an insight into the home life that he has carefully fostered with the old homestead as a center. Certainly it must be a cheerful and happy one, for the Liepe boys do not leave the farm, but remain at home, all joining with their father and bending their efforts towards a common objective-success. William, Henry, George, and Herman are in business with their father, developing a fruit and vegetable farm of which they can be justly proud.
Besides the numerous acres devoted to his specialty, sweet potatoes, Mr. Liepe raises for market at least a dozen varieties of apples; Carmen, Hale, Belle of Georgia and Elberta peaches and market vegetables of various kinds. The high class quality and standard qualifications of the fruits, truck and sweet potatoes raised by the Liepe farm are amply proven by the numerous cups and medals which they have won in hot competition. Mr. Liepe has exhibited but two years, in that short time amassing a formidable list of winnings. His sweet potatoes have won the Department of Agriculture Medal for two years and the Atlantic City Chamber of Commerce Medal for best sweet potato exhibit in 1923 at the Atlantic County Fair. He has also captured first prize on sweet potato exhibits at the New Jersey State Horticultural Society show in Atlantic City for two years-against statewide competition. In 1921 and 1922, his packages of fruits and vegetables took cups, and in 1923, he won sweepstakes on his offerings in this line. This same year his apple exhibits carried off sweepstake honors. Besides these, Mr. Liepe has other winnings of lesser importance to his credit.
One of the factors in Mr. Liepe's success undoubtedly has been the hearty cooperation and steady encouragement of his good wife. She was born in Germany, but came to America with her parents in 1858, settling in Baltimore, Md. Later, her people moved to Cologne.
In the agricultural world, Mr. Liepe has relentlessly pushed to the fore, yet has never forgotten his duties to that institution upon which America if founded – the home. He loves his home and has thrown around it an atmosphere of attractiveness that has kept his children from joining that ever increasing movement to the cities.
Politics: Republican. Religion: Lutheran. Recreations: agricultural experimentation.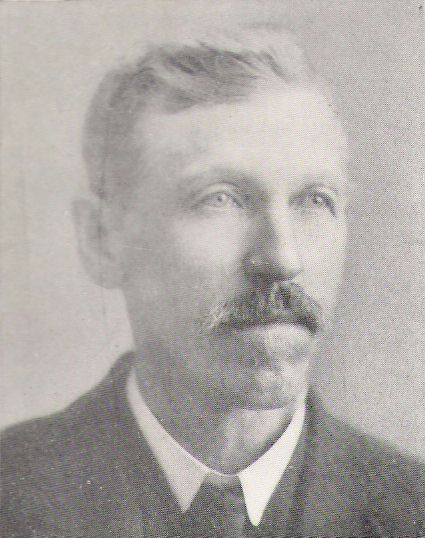 GEORGE HENRY LIEPE
Born, Cologne, July 25, 1875, son of Henry and Antonia (Schmiedigen) Liepe. Married, Dec. 9, 1900, Susan, daughter of Hiram and Sarah (Reed) Dotts, of Media, Pa. Children: Frederick George, Oct. 25, 1901; Carl Harvy, Dec. 5, 1911. Residence and business, Cologne Ave., Cologne.
The subject of this biography is the son of German born parents. His father, Henry Liepe, was born in Osnabruck, Hanover. He was educated in the German schools and when a young man met Antonia Schmiedigen, daughter of a Berlin jeweler. The young couple became engaged and decided to spend their married life in America; thus in 1855 Mr. Liepe came to the United States, working as a shoemaker, in New York City. A year later he sent for his bride-to-be and they were married in New Orleans, La.
The couple lived in the South for several years, their two oldest children being born there. They afterward resided in Chicago, Ill., for a time, and then came to Egg Harbor City in 1864, purchasing some land on Cologne Avenue. A log cabin was their home while a frame house was being constructed. Mr. Liepe planted a vineyard and as he prospered, added considerable land to his acreage. He still continued, for a time, to make shoes at home for a Philadelphia concern, before the advent of machine-made footwear. By the time that his sons were grown to manhood, Mr. Liepe had acquired enough land to give them a good start in agricultural work. In 1906, Mr. and Mrs. Liepe celebrated their golden anniversary, their five children, with their families, being present.
George H. Liepe has spent his life in agricultural pursuits. Upon his present farm at Cologne, he undertook general truck and fruit farming, specializing in berry culture. It was he who after tireless experimenting from 1904 to 1909 developed the famous "Black Diamond" blackberry from an Oregon evergreen seedling. This variety has since become very popular in South Jersey, being particularly well suited to the soil, climate and market requirements to be found in this section.
The story of Mr. Liepe's entry into the nursery business is another tale of how a hobby became a profitable specialty. For ten or twelve years he raised sweet potato plants for sale and grew some shrubbery more for his personal satisfaction than anything else. His skill in growing ornamental vegetation soon matched his interest in this difficult branch of gardening. As time went on Mr. Liepe was impressed by the ready sale to be found for shade trees, ornamental bushes and shrubs of all kinds, at good prices. The comparatively small amount of such produce as he was able to raise as a side line had become more and more profitable. He soon recognized a lucrative opportunity in this work and decided to devote more of his attention to it. At the present time nearly all of his farm is devoted to the growing of evergreens, shade trees, hedges and a variety of flowering shrubs. "The Home Beautiful" is an easy ideal to realize if one can draw upom the Atlantic Ornamental Nurseries for the necessary trees, shrubs, hedges and flowers.
Mr. Liepe takes a particular interest in the different varieties of evergreens. He has spacices, junipers, yews, arborvitae, cypress, spruce, fir, pines and cedars. Wonderfully well grown and beautiful privet and Japanese barberry hedge plants are to be found in great numbers among his extensive plantings. He has indeed made a success of the work he loves so well, and his reputation as a nurseryman continues to spread.
Politics: independent. Religion: Protestant. Recreations: botany.